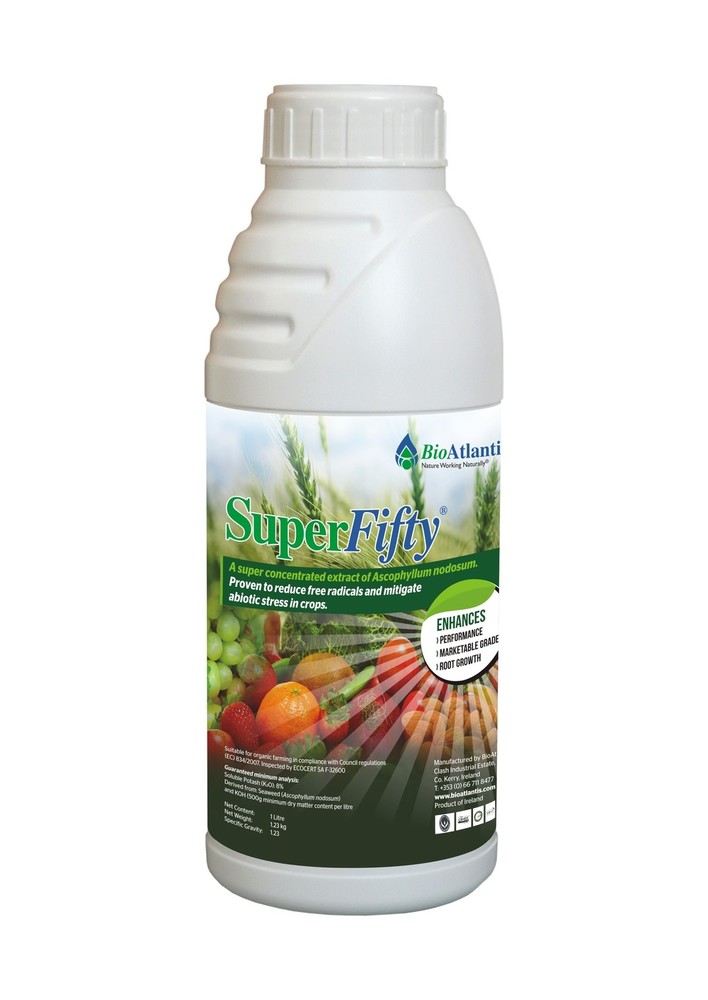 SuperFifty

Manufactured By BioAtlantis Ltd, Ireland
M/s. Pushpa J Shah is the Sole Distributor of BioAtlantis products in India.
Super fifty is world's highest concentrated alkaline extract of Ascophyllum nodosum algae (500 g/L concentration), harvested from the Atlantic Ocean on the west coast of Ireland. This high-end product enhances plant responses to abiotic stress, giving rise to beneficial effects in terms of crop yield and quality parameters. Superfifty has been demonstrated by external universities to improve crop performance, marketable grade, soil bacteria count and root growth.
Super fifty is an International Brand of BioAtlantis, due to its excellent results it is accepted in across 50 countries worldwide.
Product Features
1. Recommended for Organic Farming
2. Highly rich in functional Bioactives
3. Antioxidant Activity
4. Readily biodegradable
5. Residue free.
6. Low application rate & Reduces the use of Chemical Fertilizer.
Functions:
1. Reduces Biotic and Abiotic Stress (Scavenges the Reactive Oxygen Species that are generated during stress conditions)
2.Bio Stimulation: Modulates Phytohormones inside the plant.
3.Elicitation properties: Helps in plant defence mechanism.
4.Develops immunity in the plant to resist virus, pathogen or fungal attack.
5. Increases soil Microbial count, hence improves structure of soil.
6.Improves the development of roots and shoots.

Enquiry