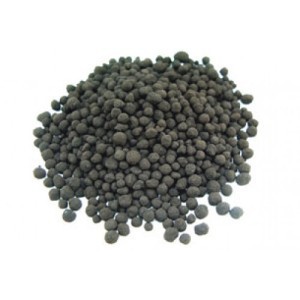 Humic Granules 10 Percent

These granules are natural soil conditioner that acts as an organic chelator or microbial inhabitator. Humic have a unique carbon matrix which includes a high concentration of trace minerals and organic acids, it enhances the plant's ability to take in essential nutrients, and improves soil structure.
Technical Specifications

| | |
| --- | --- |
| Parameters | Specifications |
| Appearance | Black Round Granules |
| Available Size (in ASTM) | 05-08 ASTM (4mm to 2.36mm) |
| Humic | 2-10 % (As per customized requirement) |
| Available Packaging | 25 kg bags |
| Minimum Order Qty | Truck Load |
| Biologically Active Components | Humic Acid, Fulvic Acid, Humin |
Features:
Organic Product
Biodegradable
Soil Conditioner
Natural Chelate
Dust free
Spherical Granules
Functions:
Increases soil carbon content.
Stimulates beneficial microorganisms
Upon contact with water, granule disperses into thousands of micro particles, which move directly into the root zone and began working to improve the health and quality of your turf, crop or plant
Improves germination and viability of seeds
Chelates macro and micro nutrients making them available to the plant for longer periods of time, also enhances the plant's ability to take in essential nutrients.
Increases cation exchange capacity (CEC)
Improves soil structure for better aeration and water movement
Blendable: These granules can be blended with most fertilizer components.

Enquiry