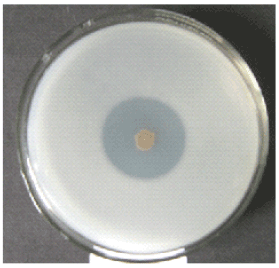 Zinc Solubilizing Bacteria

We are bulk Manufacturer and Supplier of Zinc Solubilizing Bacteria.
This Micro- Organism is aerobic free living having the capability of zinc solubilization; through this action it converts inorganic zinc in bio- available form to the plants.
Bio- efficiency: Fixes the soil Zinc and makes it available for plants.
Advantage:
1. Zinc solubilization reduces the chemical zinc based fertilizer usage up to 40%.
2. Bacteria also secretes plant growth promoter and helps in better and fast growth.
3. Improves soil fertility and the effect can be seen on next crop season because of bacterial multiplication and presence.
4. It results in average increase in yield.
Enquiry


The zest to forge our way ahead to explore newer horizons, diversification and expansion was planned in the year 2010. Today, we have grown from a small business house to a sizable unit having strengthened our product line with quality agricultural inputs extracted from natural sources. We manufacture plant growth promoters, soil conditioners, botanical extracts, organic fertilizers and are formulating granular products.


PUSHPA J. SHAH
Plot No. 906/13, Nr. Ganesh Anand Chokdi
GIDC Panoli, Dist. Bharuch
Ankleshwar - 394116, Gujarat, India

+919879329313 | +91-2646-272013
Bentonite Granules
Bio Granules
Chelated Micro Nutrients
Bio-Stimulants (BioAtlantis Ltd Ireland)
Biofertilizer
Agro Mineral Product